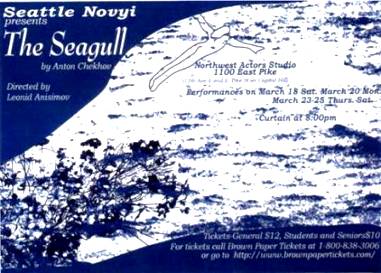 Date; March 18-25, 2006
Location ; Northwest Actors Studio
Directed by Leonid Anisimov
Technical Director ; Michael Perrone
Stage Managers ; Erika Godwin , Kristine Knutson , Peter Sorensen
Lighting ;Robert Bertocchini , Erwin Galan
Sound; Kayako Mima, Yoko Layer
Poster Design ; Ayano Fukaya
The action takes place on Sorin's estate near Moscow. The first three acts happen within two weeks. Between Acts 3 and 4 there is an interval of two years.
~ Cast of Characters ~
Arkadina, Irina Nikolayevna, (Madame Trepleva), an actress
/ Yoko Layer / Nili Tserruya
Teplev, Konstantin Gavrilovich ,Her son, a young man
/Joe Feeney / Tyler Rhoades
Sorin, Pyotr Nikolayevich, her brother
/ Leon Mattigosh
Zarechnaya, Nina Mikhailovna, a young girl, the daughter of a wealthy landowner
/ Mikano Fukaya / Kayako Mima
Shamrayev, Ilya Afanasyevich, a retired lieutenant, Sorin's manager
/ Robert Bertocchini / Erwin Galan
Polina Andreyevna, his wife
/Corrine Bogan / Lynne Compton
Masha, his daughter
/Erika Godwin / Kristine Knutson
Trigorin, Boris Alekseyevich, a writer
/Paul Layer
Dorn, Yevgney Sergeyevich, a doctor
/Mark Burke / Peter Sorensen
Medvedenko, Semyon Semyonovich, a schoolmaster
/Neil Brookshire / Sam Tsubota
Yakov, a workman
/Joe Feeney / Tyler Rhoades / Peter Sorensen
There will be a 15 minute intermission between Acts 2 and 3.
Special Thanks to:Lucia Neare , Anya Hanson , University Christian Church
Lowell and Shirley Knutson , Nancy Nickerson , Laurel Paxton
Elena Hartwell . Charlotte Tiencken , Louise Hoeschen-Goldberg