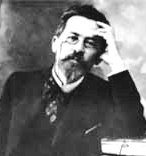 Anton Pavlovich Chekhov
(29 January 1860 –15 July 1904) was a major Russian writer known primarily for his short stories and plays. Many of his short stories are considered the apotheosis of the form while his plays have had a great impact on dramatic literature and performance. From Chekhov, many contemporary playwrights have learned how to use mood, apparent trivialities and inaction to highlight the internal psychology of characters. Chekhov's four major plays— The Seagull, Uncle Vanya, Three Sisters, and The Cherry Orchard —are frequently revived in modern productions.
Chekhov was born in Taganrog, a small provincial port on the Sea of Azov, in southern Russia on January 29, 1860. A son of a grocer and grandson to a serf who had bought his own freedom, Anton Chekhov was the third of six children. In 1879 Chekhov entered the Moscow University Medical School. During this time, he published hundreds of comic short stories, under the pseudonym Anton Chekhonte, in order to support himself and his mother, sisters and brothers.
Chekhov qualified as a physician in 1884, but continued writing for weekly periodicals while practicing medicine in Moscow, Melikhovo and Yalta. By 1886 Chekhov was becoming a well-known writer, but he still considered his writing a hobby.

Uncle Vanya is a tragicomedy by the Russian playwright Anton Chekhov published in 1899. Its first major performance was in 1900 at the Moscow Art Theatre under the direction of
Konstantin Stanislavski
. It was the second of four Chekhov plays that were presented (and the first to premiere) at the Moscow Art Theatre. The other three plays were: The Seagull, Three Sisters and The Cherry Orchard.
"Uncle Vanya" is unique among Chekhov's major plays because it is essentially an extensive reworking of a play published a decade earlier, "The Wood Demon." "Uncle Vanya" was published in 1899, but it is difficult to determine when the work was originally finished, or when the revision process took place. Recent scholarship suggests that Chekhov may have revisited "The Woood Demon" during his trip to the island of Sakhalin, a prison colony in Eastern Russia, in 1891.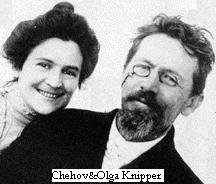 In 1901 he married
Olga Leonardovna Knipper
, an actress who performed in his plays. Chekhov died on July 15, 1904 in Badenweiler, Germany.